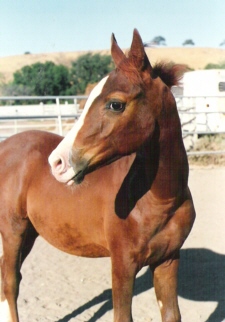 "Hard Lessons"
By Kathy Rogers
Years ago, I boarded my mother/son Arabian duo at a large ranch, near a big lake, in the beautiful but dry Almaden Valley of California. At the time, Kalero was just a yearling, and even though I rode his mother on a regular basis, I tried hard to set aside a block of time to "work" with the youngster.
Calero Ranch is a sprawling equestrian facility, with a handful of arenas, pasture areas, paddocks and barns. So, I liked to lead Kalero throughout the property, exposing him to different sights, sounds, horses and experiences. It was nice mid-spring day, the sky was blue, and you could hear the boaters on the nearby Reservoir, mixed in with an occasional whinny and mooo of nearby cows. Kalero was doing great, staying off my right shoulder, looking cute as ever.
We wove our way through a maze of paddocks saying hello to the outstretched noses we passed. Finally, we emerged onto a large gravel driveway, with a big oak tree in the middle, and a large lump on the ground covered with a big blue tarp. The tarp instantly got Kalero's rapt attention and so I took the opportunity to prove to him that tarps just as aren't as scary as they seem.
We approached the tarp. I did fleetingly consider what might be underneath it, and concluded that it must be yard debris, covered to keep animals out.
Kalero did not like the tarp one little bit. He started snorting, and side stepping, very reluctant to get close. I insisted however, and maneuvered him right next to the tarp.
"You see, nothing to be afraid of Kalero". I stroked his neck, but he was still quite frightened of the tarp.
Then I had a bright idea, "I'll show you what's underneath so you won't be scared" I explained. But, as I leaned over and took hold of a corner to lift the tarp and expose its mystery, I began to comprehend the shape of the "lump" underneath. And as I took in the full form, it was clear, there was a dead horse under the tarp.
"OK, that's all" I blurted and quickly turned him around and headed away from the lifeless form in the driveway.
What a lesson that would have been.