The Parma® Arena Groomer® tool is the only piece of equipment for complete ground preparation in one pass.
The Arena Groomer® tool uses time proven seed bed preparation techniques – made popular by the Parma® Rollaharrow – but designed exclusively for the arena. First, the S-Tines loosen compacted soil and prepare the base; the tines have reversible points that are also replaceable. Next, the leveling bar fills holes and smoothes humps.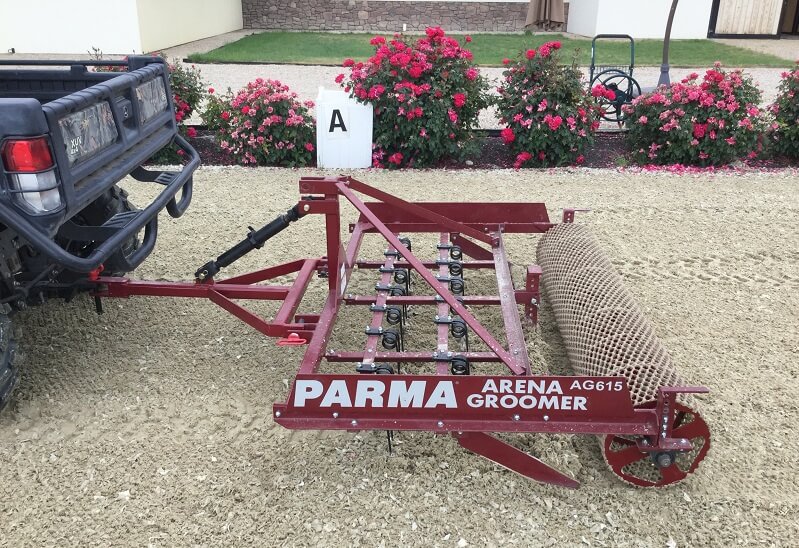 It is also adjustable to control the amount of dirt carried. At the rear, the pipe roller breaks and pulverizes clods. It firms and packs the base, leaving a soft, uniform surface. The roller is adjustable to control rear depth.
There are a variety of sizes available: the 5', 6', 7' and 8' Mini models; the 8', 10' and 12' standard models; and the 8' PRO model. We also offer options for synthetic and fiber footing and equestrian arenas. Options are also available for use with an ATV or UTV.

Depending on the size and model, most models can be pulled with a 60 horsepower tractor with 3-point hitch. The Parma® Arena Groomer® ships easily by truck in a simple bolt together package that requires just a couple of wrenches for assembly.
Contact Parma Co. at (208) 722-5116 – info@parmacompany.com