Welcome to Horse Expo USA, America's ONLY Online Equestrian Horse Expo for horse riding enthusiasts. Here you can browse hundreds of quality equine businesses in our Exposition Hall! List your horses for sale for FREE! Find Horse Property for Sale, Horse Riding Tack, Riding Apparel, Horse Trainers, Stables, Equine Health Products, Horse Ranch Supplies, Dude Ranches, Equestrian Vacations and so much more! Dressage, Western, English, Gaited, Trail, Pleasure, Working Cow Horse – all breeds, all riding disciplines.
Horses for Sale – List your Horses for Sale for FREE!
Horse Expo USA Exhibitors
Search Horse Expo USA Exposition Hall

Deer Creek Structures – Portable Horse Barns – Spurrs Big Fix – Wound, Skin and Hoof Care Products – Microrain – Arena Watering Systems – Big Sprinkler Systems
Visit Horse Expo USA's Virtual Equestrian Expo Hall right here!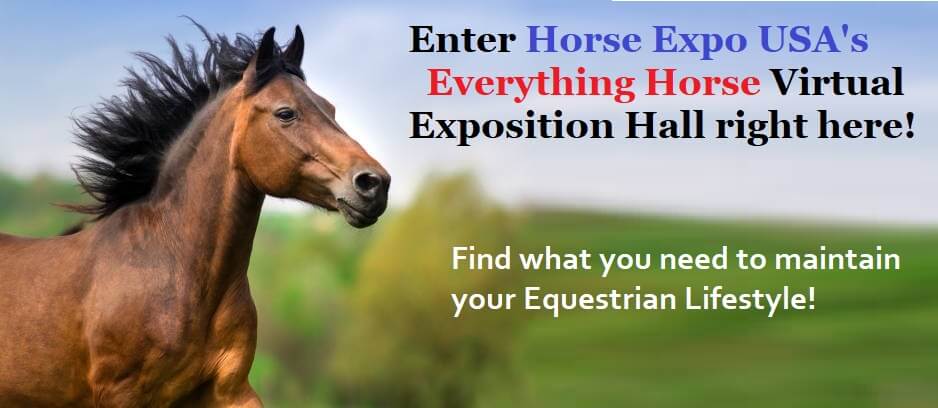 Though there is controversy over the exact date horses were domesticated and when they were first ridden, the best estimate is that horses first were ridden approximately 3500 BC. Indirect evidence suggests that horses were ridden long before they were driven. There is some evidence that about 3,000 BC, near the Dnieper River and the Don River, people were using bits on horses, as a stallion that was buried there shows teeth wear consistent with using a bit.[5] However, the most unequivocal early archaeological evidence of equines put to working use was of horses being driven.
Chariot burials about 2500 BC present the most direct hard evidence of horses used as working animals. In ancient times chariot warfare was followed by the use of war horses as light and heavy cavalry. The horse played an important role throughout human history all over the world, both in warfare and in peaceful pursuits such as transportation, trade and agriculture. Horses lived in North America, but died out at the end of the Ice Age. Horses were brought back to North America by European explorers, beginning with the second voyage of Columbus in 1493.[6] Equestrianism was introduced in the 1900 Summer Olympics as an Olympic sport with jumping events.